Skip pnbhs news
PNBHS NEWS
Developing good literacy skills is an essential component of academic success. Building your 'reading mileage' is important – international research shows a direct correlation between the amount of time spentreading and academic achievement.

In other words, if you want to achieve at school, spend more time reading. The good news is that reading is a skill that we can all improve, simply by spending more time doing it. Our daily SSR time (Sustained Silent Reading) at the beginning of period five is a good start, but time spent reading over and above this will make a big difference for all young men.
To encourage reading, we run the Year 9 Reading Challenge, which is open to all Year 9 students. As you finish a book, check in with the librarians or Mrs Rankin or Dr O'Connor in the English department. They will ask you a few questions about the book and will then 'mark off' the book on thereading log. Both fiction and non-fiction books count in the reading challenge.
Once you have read and logged 15 books, you will have met the Bronze Certificate part of the Challenge.
30 books will earn you the Silver Certificate and 60 books the Gold Certificate.
Certificates will be presented during Assembly towards the end of the year. Those young men who earn a bronze, silver or gold award will also get a Morning Tea Shout from the Rector.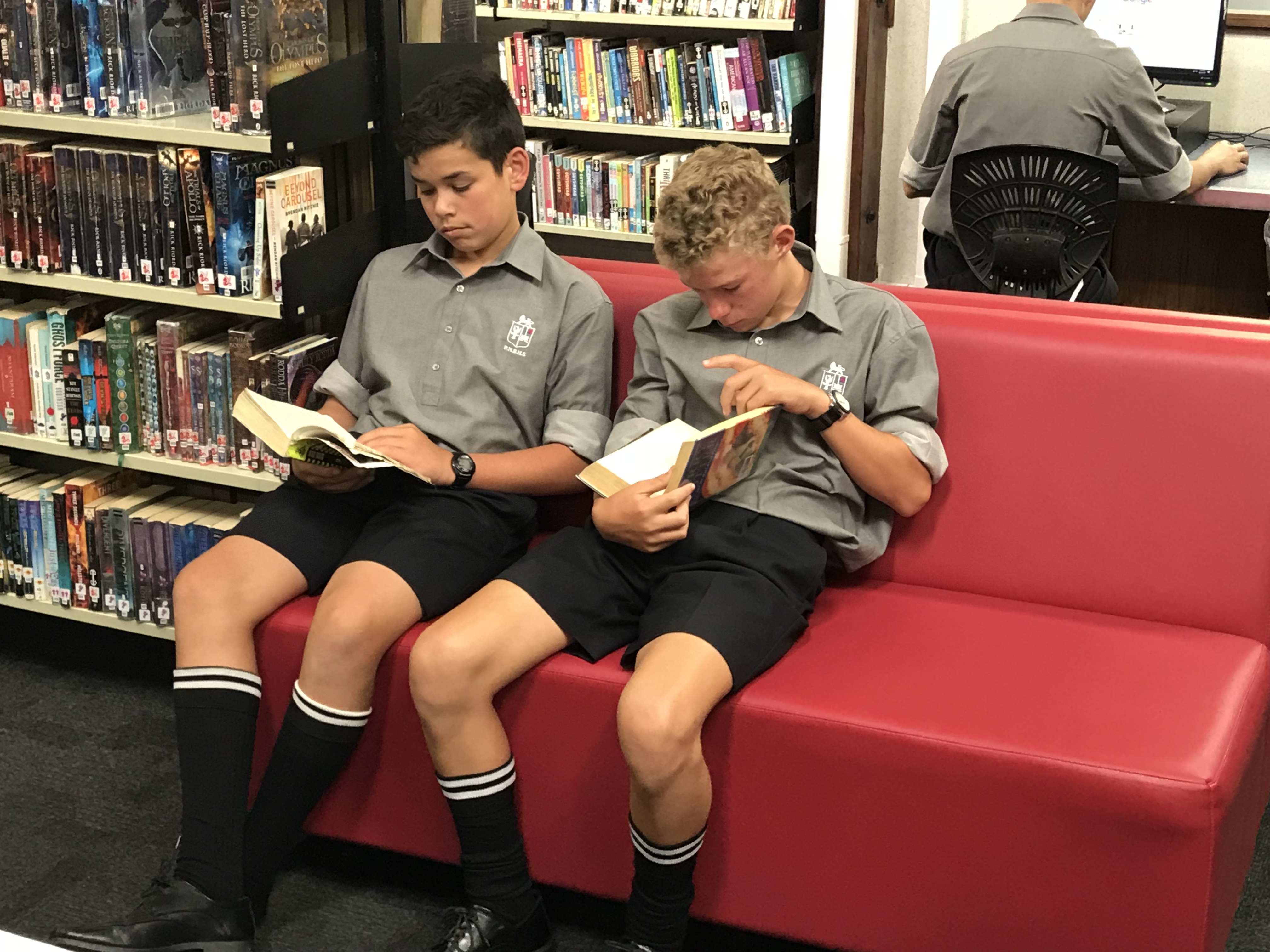 Congratulations to 2017 Dux Litterarum Finlay McRae, who has been named as both a Premier Award winner and a Top Subject Scholarship Award winner following the release of 2017 Scholarship results. Finlay achieved the top mark in New Zealand in Scholarship Physics. He achieved Outstanding Scholarship passes in Calculus, History and Physics and Scholarship in Chemistry and English. As a Premier Award winner, Finlay will receive $10,000 per year for three years to go towards the cost of university study, and as a Top Subject Scholar Award winner, he will receive an additional $2,000 per year for three years towards his university study. These are fantastic achievements for Finlay and well deserved recognition for his diligent and determined approach to his academic studies. Nihil Boni Sine Labore.

Congratulations to Bank Jonglertjanya, Adam Martin and Chaz Rossiter who were awarded a Prefect badge at assembly this morning.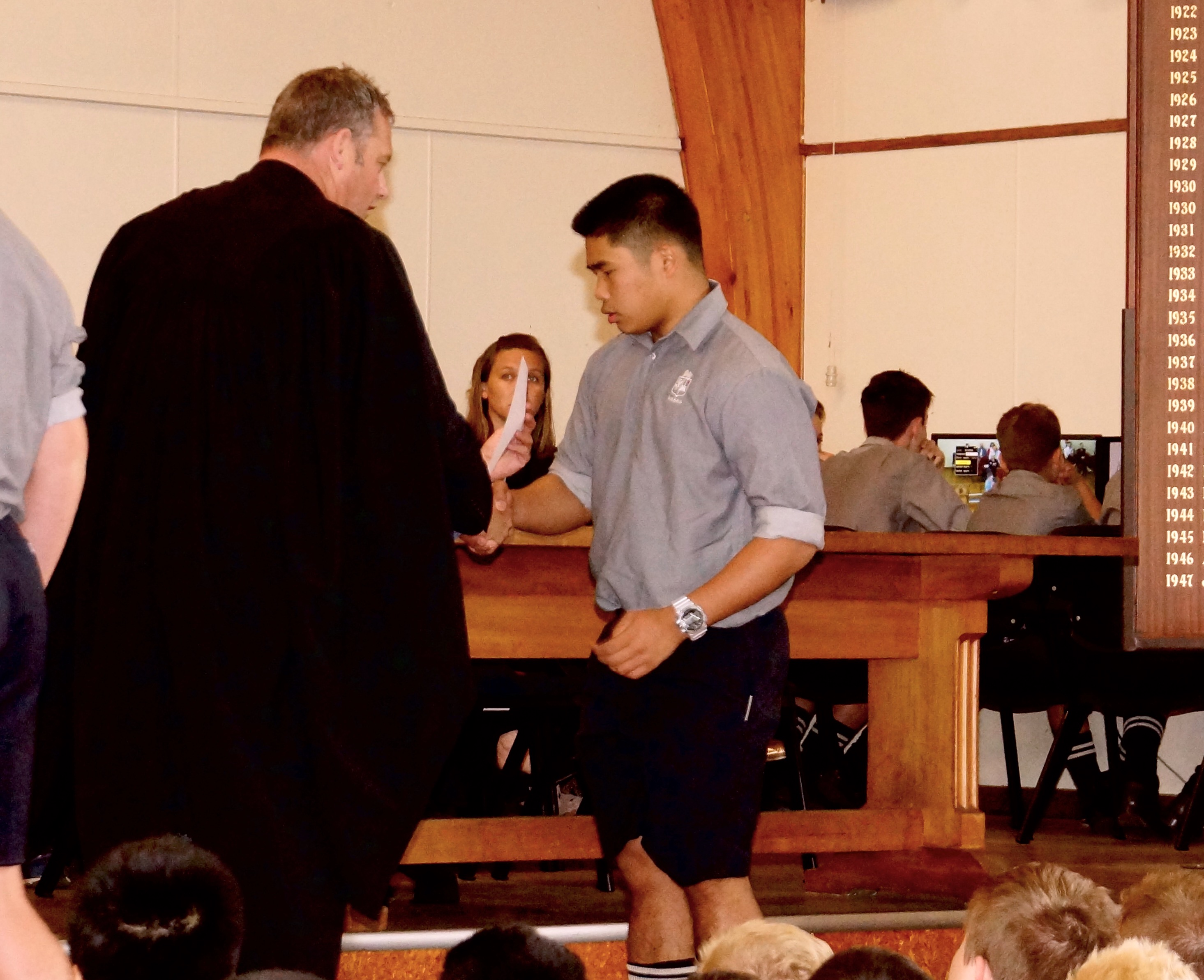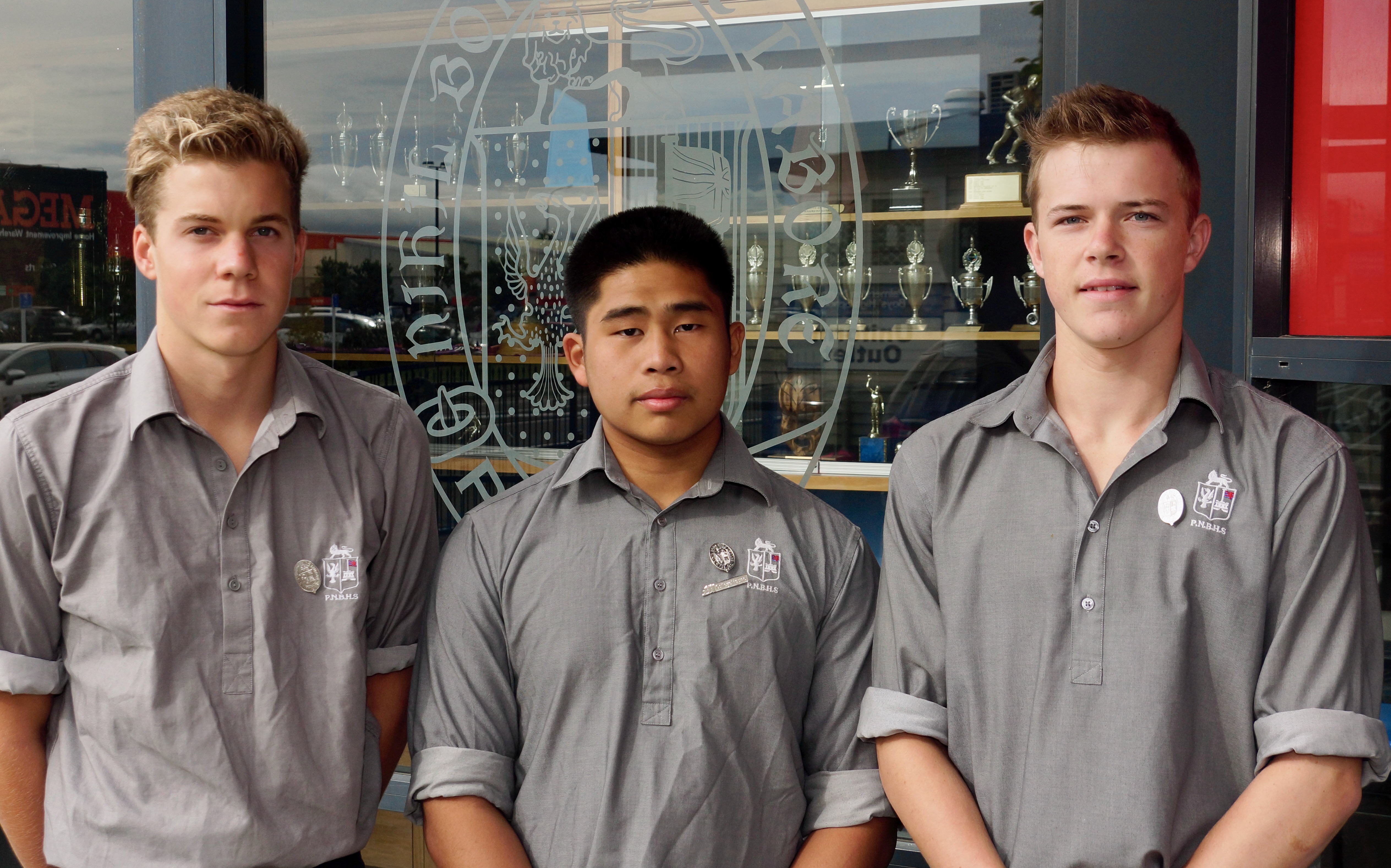 Music Information Evening
Speirs Centre

This is an opportunity for students to get some hands-on experience with brass and woodwind instruments, for parents to meet music staff and discuss instrument hire/purchase with local retailers.
There will be a brief presentation outlining music lessons and opportunities at PNBHS followed by a hands-on session where students may try out instruments and see what suits them best. Parents can discuss hiring school instruments or talk with representatives from Beggs Musicworks and the Rockshop about hire or purchase.
This is a great chance to ask questions and get your son excited about a new challenge.
A morning tea to wish the Year 13 students all the best for their final year at PNBHS.

MATCH REPORT – 1ST XI CRICKET VS NAPIER BOYS' HIGH SCHOOL – 7 - 8/02/18
With the first day's play having been rained off at Nelson Park in Napier, it was decided to play a 50-over match on the second day for the Challenge Shield.
Captain, Bryn Wilson lost the toss and was asked to bat on a green looking wicket with gloomy overhead conditions. The opposition's decision was soon vindicated as two wickets fell in the opening over. There followed a period of consolidation where the batsmen were able to keep the scoreboard ticking. A further two wickets put the brakes on and the batsmen had to work hard to get through the new ball. Ruben Love, with some middle-order support from Sam Russell and Max Harris, steadied the ship and was able to keep the scoring going. Unfortunately, a flurry of wickets fell in the last 10 overs and, despite Ruben's magnificent effort, the 1st XI were bowled out for 205 in the 48th over. Sam scored 23, Max 28 and Ruben a well-crafted, game-defining 106.
Defending an average total on a quick outfield was never going to be easy, but the opening bowlers did a good job of keeping the opposition quiet and this led to a wicket in the 3rd over. A period of consolidation followed until wickets fell after the first drinks break and PNBHS looked to be on top. Some loose bowling and fielding allowed Napier back into the game but a constant flow of wickets kept the 1st XI in the game. The bowlers kept to their task and managed to finish them off in the 47th over for 183. Bryn Wilson was the top bowler with 4 for 20.
PNBHS won by 21 runs and retained the Challenge Shield.
The first match for the Challenge Shield was in 1909 and it has been competed for annually since then.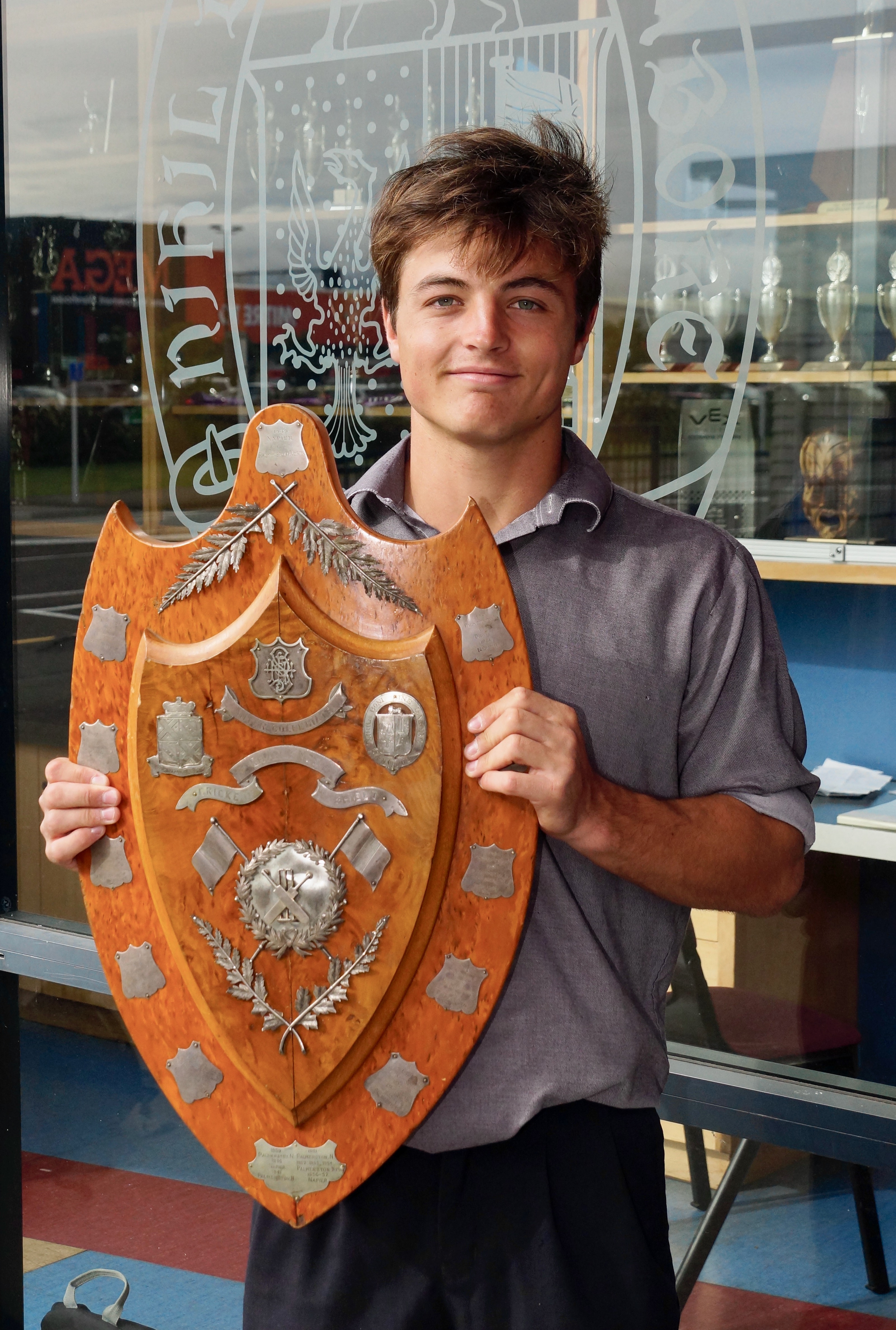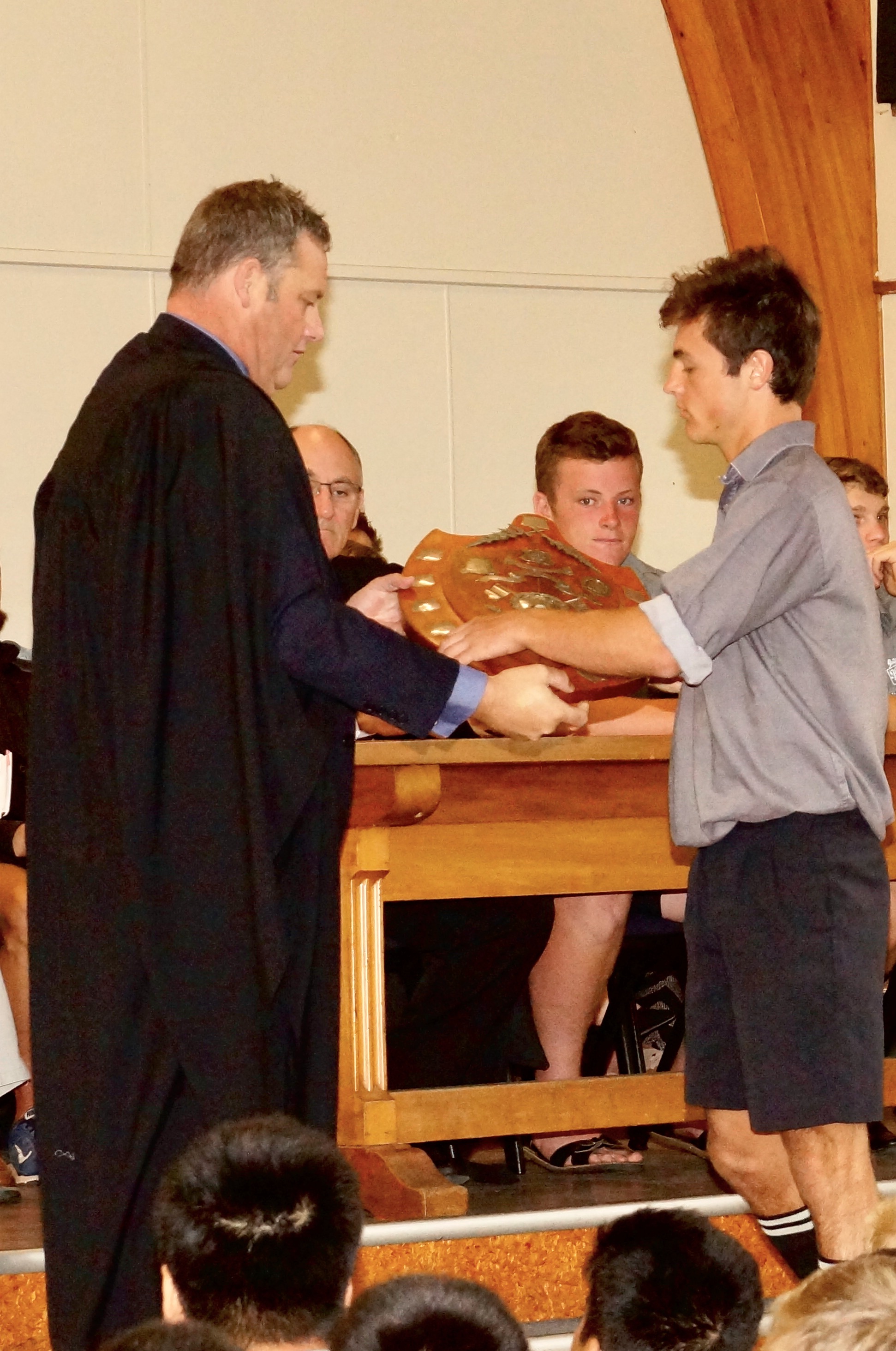 Year 13 student Chaz Rossiter is the leader of the 2018 Palmerston North Boys' High School World Vision Committee. Chaz recently had the opportunity to attend the World Vision Senior Scholarship programme in Auckland. This forum was attended by 30 secondary school leaders from across New Zealand, who came together to learn about World Vision's focus for 2018. Alongside this, Chaz had the opportunity to be involved with a series of workshops to develop his leadership skills.
In 2018, World Vision will be working to support refugees from South Sudan, who have fled conflict and are living in squalid conditions in refugee camps in Uganda. There will be opportunities for interested young men to become involved with the work of the World Vision Committee during the year – details will come via the daily notices. #PNBHSpeople