Skip pnbhs news
PNBHS NEWS
1st XI Football v Marist Reserves
PlaceMakers PNBHS 1st XI played Marist Reserves, losing 3 – 5. Both teams started well, and had several opportunities on goal, from which several were converted. Jaiden Meyer opened the score, followed by Marist finding an equaliser. Soon after, Marist hit the lead, followed by another Jaiden Meyer goal, giving him a brace for the game.
After half time, Marist hit a "green" patch, and scored 3 further goals to take the win. Joey Thomas scored a "screamer" for Boys' High, to make the final score 3 – 5 in Marists favour. Boys' High played well, and if "lady luck" was shining, could have taken the game. Unfortunately, although playing attractive football, missed opportunities outweighed those that hit the back of the net. Brooklyn Browne had a strong game in goal, while Mason Charlton, Joey Thomas, Jaiden Meyer and Ryan Watson all had solid performances.
Smallbore Shooting
The National Secondary Schools Competition was held concurrently at multiple ranges around the country, so no one had home range advantage. Our team of David Murphy (292.12), Marshall Burn (279.06) and Thomas van Stipriaan. (281.05) came in 12th (852.23) out of 26 teams. David made the North Island team and subsequently shot his first 100, which is a fantastic personal result. The North Island thrashed the South Island team with a record score (1944.82 vs 1925.61).
David capped off a great event by being selected to the New Zealand Secondary School team which will compete against Britain (via postal match) and winning the trophy for Top Boy (taking this out by just 3 inners).
Image 1 - David's 100.07. His first 100, shot in in the North vs South Island match.
Image 2 - National Team of Marshall Burn, Thomas van Stipriaan and David Murphy (with Assistant Coach and Old Boy Lachie McNair)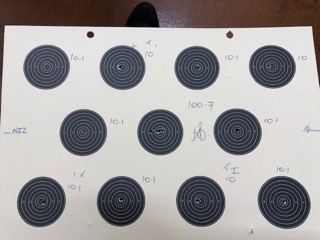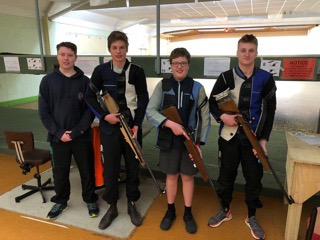 Palmerston North Boys' High School
Careers Newsletter Monday 28 September
Lincoln University - Course Planning for students intending to go to Lincoln next year & general information for interested Yr 12 students. Register by emailing Mr Adams careers@pnbhs.school.nz
Auckland Uni staff will be at school to assist with course planning. Register in the Careers Room.
Thinking about a new opportunity? Looking for a role where the landscape is always changing, and the outlook is bright? Join our team! we are excited about what we do and we are passionate about ensuring the safety of the travelling public and supporting our teams to deliver on what we do best – roading and infrastructure. As someone new …
An opportunity for school leaver in a small Manawatu business. Must be keen and eager to learn. Apprenticeship is a possibility for the right person. Opportunity to learn drainage and digger skills. Phone: Jeff Osman, InTrench Ltd - 027 306 2667.
1st XI Hockey v Feilding High School - Intercity Final Match Report
Congratulations to the 1st XI Hockey team, who rounded out an undefeated season in the Manawatu Secondary Schools Competition with a 2 - 0 win over Feilding High School in the final on Sunday.

After strolling through the round-robin phase of the competition undefeated, PNBHS were eager to seal the deal in the Intercity Secondary School Final and gain some reward for their dominant season. However, Feilding High School were coming off a purple patch of form, meaning it would take a top performance from PNBHS to leave with the silverware.
Both teams operated a high press from the beginning of the match, meaning defenders on both sides were kept under constant pressure. Malaki Masoe and Zac Buinimasi dealt with this pressure well and were capable of holding possession around the back and launching attacks from the end of the pitch. Conversely, Feilding looked to overhead the ball out of trouble which worked in PNBHS's favour as our playmakers were regularly gifted the ball. These factors enabled PNBHS to successfully carry out their game plan and open the scoring at the end of the first quarter through Ben Havord.
Throughout the middle stages of the match, Feilding began to increase their work rate and put PNBHS under pressure. Eventually, the PNBHS players began to make some errors which enabled Feilding to penetrate the circle and draw a string of outstanding saves from goalkeeper Will Morgan. Will's efforts seemed to inspire the PNBHS players into action as the regained the upper hand and began to stamp their authority on the match again. A swift counter-attack was impressively converted by a diving Blake Rhodes-Robinson to double the lead. For the remainder of the game, PNBHS remained composed in possession to wind down the clock to take the match 2-0. The championship served as a well-earned reward for an untraditional but successful season.
A huge thank you to Simon O'Connor at Hunting and Fishing for his ongoing support of Palmerston North Boys' High School and our 1st XI Hockey team, it is truly appreciated!!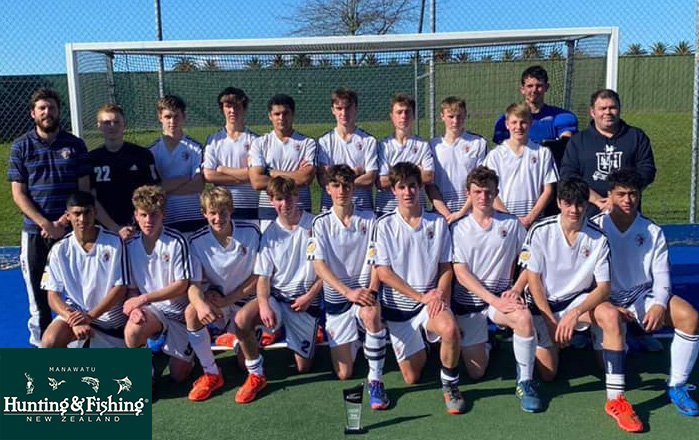 U15 Colts Rugby Prizegiving
Well done to the U15 Colts Rugby team who were winners of the MRU Development Grade this year.
Congratulations to the following young men who received awards at the U15 Colts Prizegiving.
Back of the Year - Braxton Wilson-Clune
Team Man - Josh Langridge
Mpst Valuable Player - Eli Oudenryn
Players' Player of the Year - Liam O'Connor
Forward of the Year - Tom Illston-Park
Best Back at Tournament - James Parkinson
Most Improved Player - Jett Donald-Charnley
Best Back at Tournament - Kahn Mason (absent)
Many thanks to Justin and Keli Leck and McDonalds Palmerston North for their sponsorship and support of the U15 Colts Rugby team throughout the season; we couldn't have done it without you!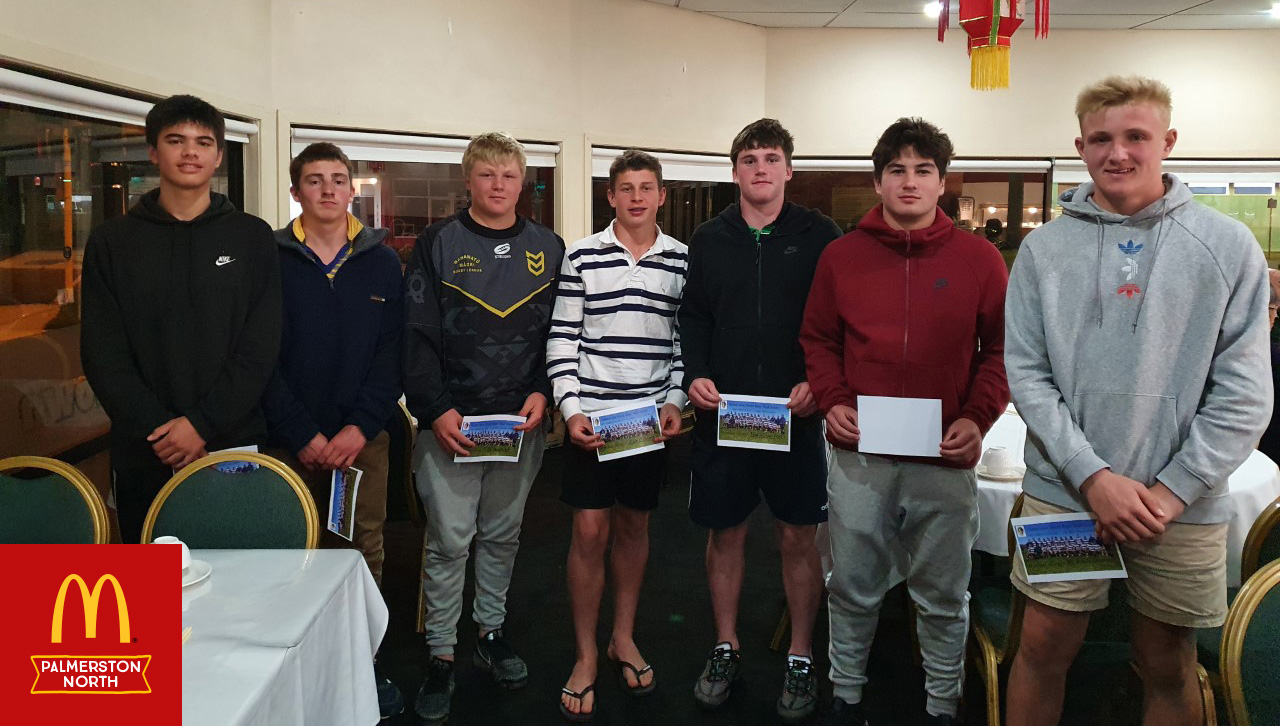 Uzabus 2nd XV Rugby Prizegiving
Congratulations to the following young men who received awards at the 2nd XV Prizegiving on Wednesday night.
Player of the Year – VJ Tauli
Players' Player of the Year – Kalis Mason
Forwards of the Year – Regan Fleming & Kodie Albert-Papuni
Most Improved Forward –Telson Liuvaie
Back of the Year – Tremaine Kinnear
Most Improved – Anitoni Metui
Top Try Scorer – Simi Togoloa
Bolter of the Year – Vince Tahiwi
Team Man – Tusi Mafi
A big thank you to Uzabus for their continued support of PNBHS and our 2nd XV; it is greatly appreciated!