Skip pnbhs news
PNBHS NEWS
On Wednesday the 5th of August the Palmerston North Boys' High School A, B and C chess teams competed in the Manawatū Regional Schools' Chess Competition at PNINS. Results were excellent across the board, with Tommy Lu coming 2nd place overall in the tournament and Cameron Van Rynbach placing 3rd overall. Both Tommy and Cameron won all of their games.
The A team placed 1st overall in the tournament, winning the Regional Competition and qualifying for the National Championships later this year. Alex Clayton won 5 of his 6 games, a highly commendable achievement, as he played the second-best players on each school's team, while Eli Hancock achieved the same results on First Board. An excellent, productive and high achieving day for the PNBHS teams. The team would like to thank Mr Hann, Mrs Belton and everybody else involved in organising and attending the event.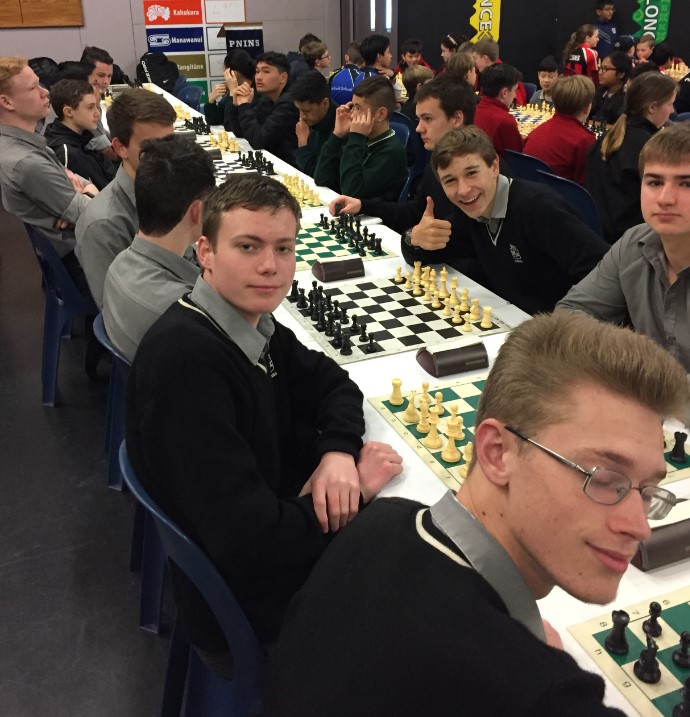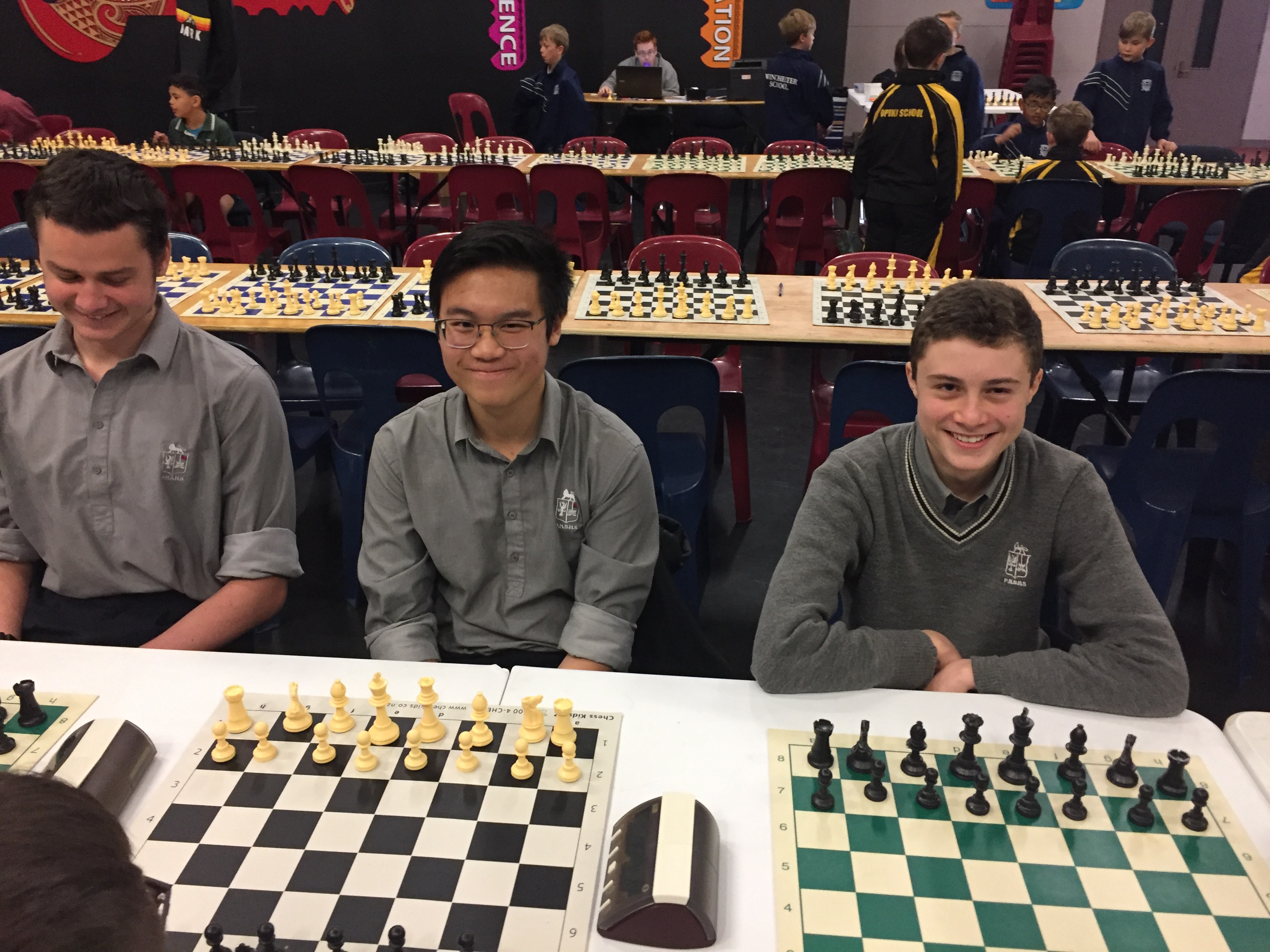 Click on this link to find out about the subject selection process and the subjects available at PNBHS in 2021: https://hail.to/pnbhs/publication/CxOI4dC
Click below hear from our Year Level Deans about the specific requirements at each year level from Year 10 - Year 13:




Click below to watch a short video from the Careers Advisors with some key information for you to consider as you make your 2021 subject selections: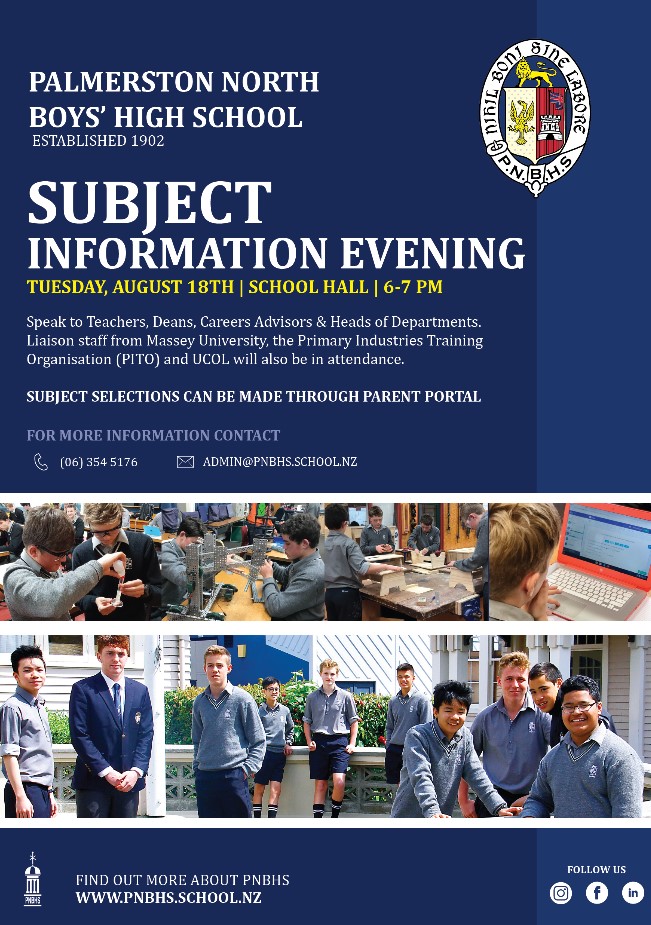 Well done to all young men who competed in the annual PNGHS 'Rock Da House' talent competition last night. There was a very diverse range of high-quality performances across a range of genres with five from PNBHS students: Tom Varney with a solo singing performance, guitar solo from Alex Christensen (a very confident and accomplished performance for a Year 9 student), a Hip Hop performance from Jake Maskill and Noah Purcell, rock band Prismatic (Kieran Giddens, Cameron Giddens, Riley Wratten-Young), and a solo guitar and vocal performance from Taine George of one of his own songs. Hip Hop group 'Alpha', featuring PNBHS students Zac Maskill, Noah Purcell and Jake Maskill were guest performers.
Congratulations to Jake Maskill and Noah Purcell who finished in third place, winning a $100 voucher, and to Taine George, who collected a $200 voucher for his second place performance. Jake and Noah also won the 'People's Choice' award, collecting another $75 in vouchers.
A big 'thank you' to Palmerston North Girls' High School for their organization of the competition, to Palmy Boys' Prefects Taine George, for coordinating the PNBHS performances, and Zac Maskill for his work as one of the MC's for the event.
The 1st XI Hockey team play Whanganui Collegiate tonight before they head to New Plymouth Boys' High School to play in the exchange tomorrow in New Plymouth.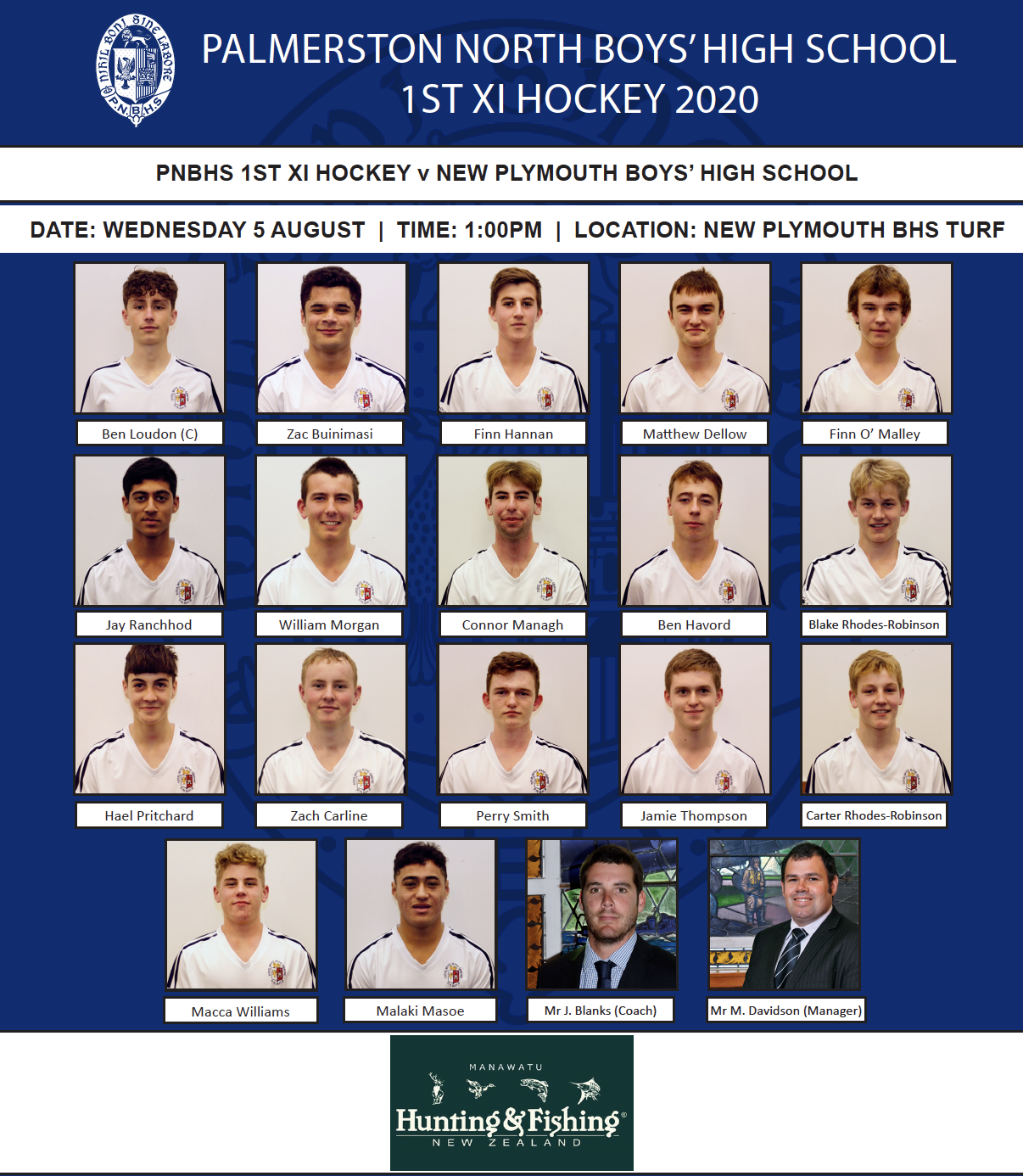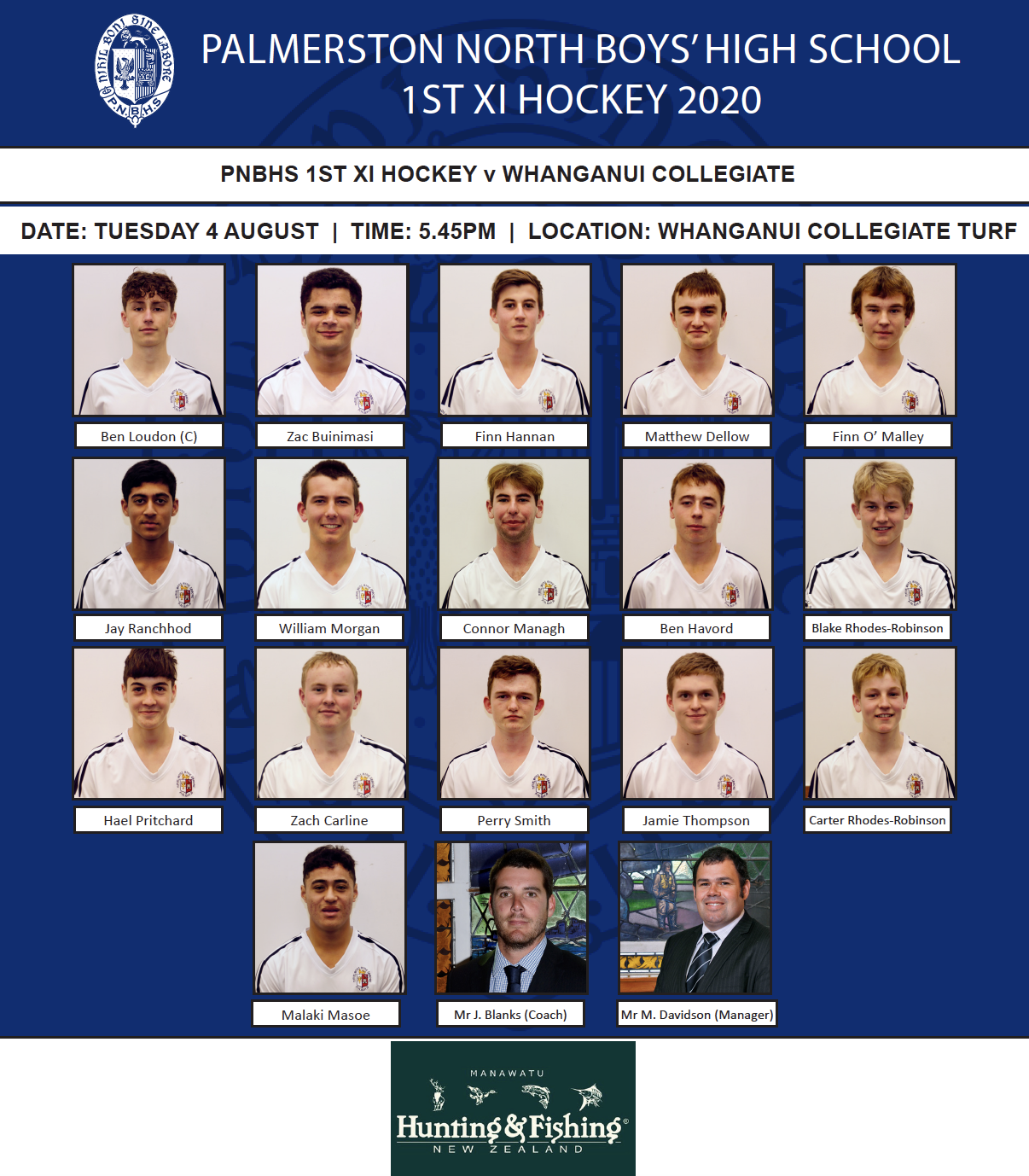 1st XI Hockey vs Rongotai College - Wednesday 29 July
On Wednesday 29th July, the 1st XI Hockey team played another double header in Palmerston North against Rongotai College and Feilding High School.
Rongotai College travelled to Palmerston North as part of the traditional Football Exchange. Ex-PNBHS 1st XI Hockey Captain Levi Loudon now coaches the Rongotai side.
After a disappointing start, PNBHS struggled to find their rhythm which meant that goals were difficult to come by in the first quarter.
The second quarter opened up a little with Matthew Dellow scoring followed by a Zac Buinimasi penalty corner conversion.
The game continued in the same vein with no further goals until Finn O' Malley scored in the final minutes giving PNBHS a 3 – 0 victory. This match gave the team plenty to work on in the afternoon match against Feilding High School.
Pictured below: Current PNBHS 1st XI Hockey Captain Ben Loudon with his brother Levi Loudon, ex-PNBHS 1st XI Hockey Captain and current coach for the Rongotai College 1st XI Hockey team.
1st XI Hockey vs Feilding High School - Wednesday 29 July
Zac Buinimasi opened the scoring in the Feilding High School match when he converted a penalty stroke awarded after a Feilding High School defensive mistake. PNBHS continued to apply pressure throughout the match.
Connor Managh and Malaki Masoe scored in the second quarter giving the PNBHS team a comprehensive 3 – 0 lead at halftime. Feilding High School went into damage control in the second half "parking the bus" in our circle making scoring difficult.
The PNBHS attack was relentless and the forwards were finally rewarded with a successful goal attempt to Zach Carline. The final score was 4 – 0 to PNBHS.
A good day for the 1st XI recording two wins.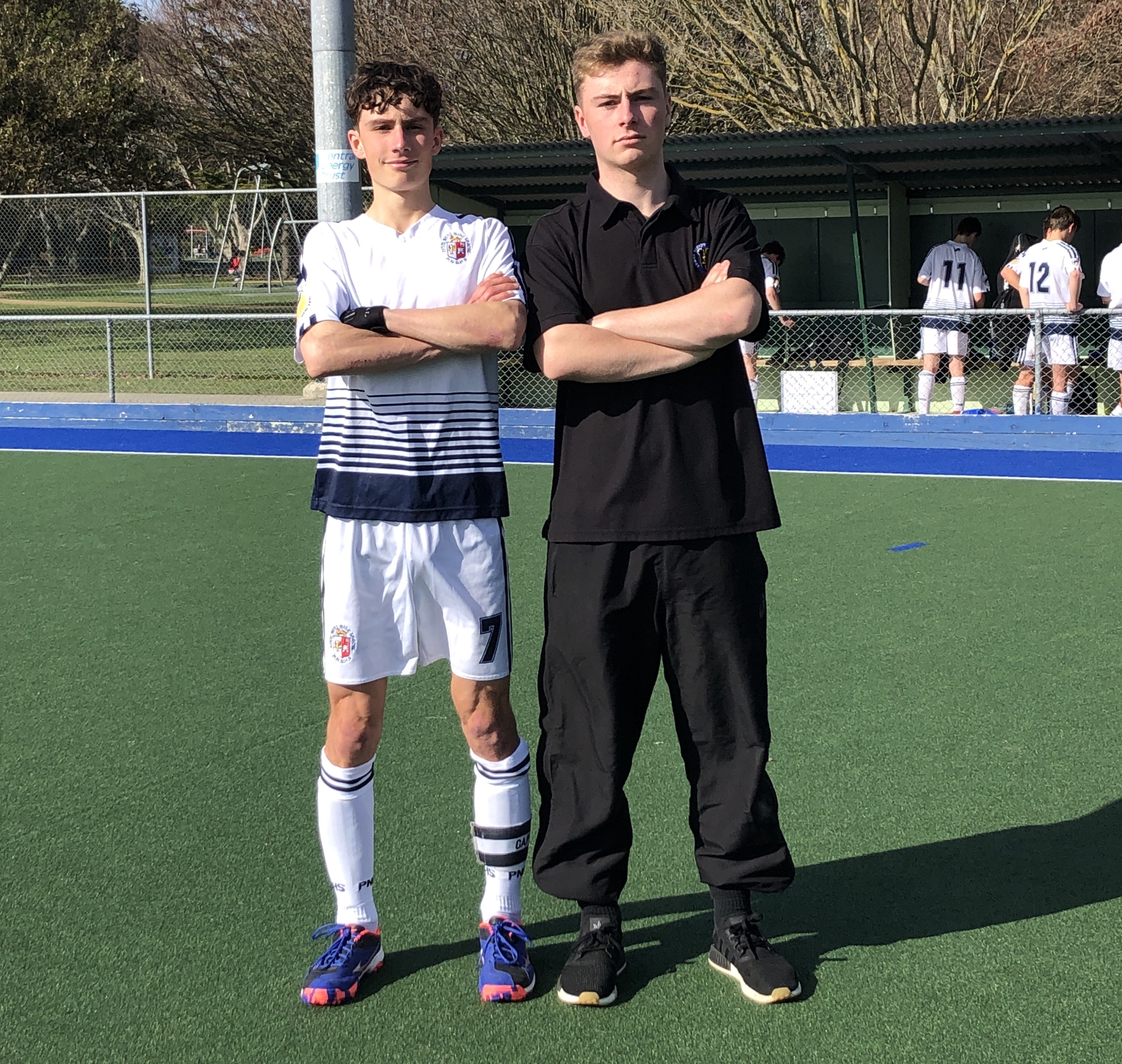 1st XI Hockey v Marist College Old Boys - Saturday 1 August
The 1st XI played MCOB in the first of three crucial playoff matches in the Manawatu Men's Competition. PNBHS made a positive start as they immediately adapted to the increased speed and quality of Division One hockey. MCOB's game plan appeared to sit deep and look to counter-attack, but Zac Buinimasi was up to the challenge as he managed to shut down their striker's quickly.
The game grew in intensity as PNBHS gradually started to launch attacks of their own, primarily through the centre with Malaki Masoe pushing forward. Matthew Dellow had the best chance of the quarter but saw his shot saved by the MCOB keeper.
Towards the end of the first quarter, MCOB gained a circle entry and created a two vs. one against our deepest defender. The MCOB strikers obstructed our defender, who was unable to reach the ball carrier allowing MCOB to score a goal. The umpires seemed not to notice the obstruction.
MCOB quickly capitalised on this momentum, scoring a minute later to go two-nil up at the break.
PNBHS were undeterred and came out of the break with a chip on their shoulder. For the next 15 minutes, they had MCOB pinned back in their half. This culminated in a penalty corner that was successfully converted by a Zac Buinimasi variation.
The third quarter was a more even affair as both teams enjoyed several goalscoring opportunities. The discipline of the opponents began to fall away as they were punished for deliberately taking down PNBHS players. Subsequently, frustration began to grow within the PNBHS team as they searched desperately for an equalising goal. It was not to be, and PNBHS went down 0 – 1.
Zac Buinimasi and Malaki Masoe had outstanding matches for the 1st XI. Matthew Dellow also worked tirelessly up front, creating a handful for his opponents.
Despite the loss, it was a solid performance from PNBHS against a quality side.